I'm so excited to be back on the A to Zebra Celebrations team after a mini-vacation! 🙂
I came back and find out that Nancy, the lovely owner, has started a brand new, fun weekly meme! You know I couldn't resist joining in, right?!
So, every Tuesday, Nancy is giving craft bloggers the chance to link up their super cute crafts for:
at A to Zebra Celebrations!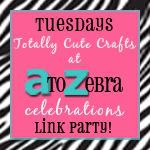 Today, I'm sharing the baby shower centerpieces I handmade for my mom's baby shower in October.
The cost of each one was about $5.00!
A bargain, if you ask me!
I bought the little baby on a moon figurines and the adorable pastel colored ribbon at a local craft store.
The theme was "Moons & Stars" and we went with a pastel color scheme because our little Zachary decided he was going to hid his gender until the very end.
They were also SUPER EASY to make!
To make them, I bought plastic cups and plates at the Dollar Tree, which I LOVE. I also got some iridescent  shreds. All you do is hot glue the ribbon around the plate then, fill the cup with iridescent shreads and hot glue the cup upside down onto the center of the plate. Finish off with hot gluing ribbon around the base of the cup and the final touch is adding the figurine to the top.
At the baby shower, we covered the plate in pastel mints and…
VIOLA! Cute and adorable Baby Shower centerpieces! 🙂
Have you made something "crafty" that you're just itching to share?!
Why not link up with A to Zebra Celebrations for Totally Cute Crafts Tuesdays! 🙂